Love Your Children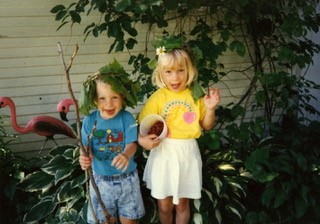 What kind of love brings a wife coffee in bed every morning for 43 years?
Answer: A man who knows his wife is really not a morning person. Actually, it is true, Mel brings me coffee as a little gesture of love every morning he can. It sets the tone for a sweet day. He is not the dancing, dashing, champagne and roses kind of guy. He brings me coffee in the morning, and I love him.
Let me back up…
In 1975, I was 18, Mel was 20. One evening in June we walked the aisle in a little white church filled with lilacs in our hometown in Door County. We were both full-time students at Carroll College, living on a shoestring. After college, seminary in Illinois. I brought home the paycheck, working as a nursing home cleaning lady, data entry clerk, and as a clerk in Al Johnson's gift shop in Sister Bay in the summer. Mel completed his Masters Degree and then went on to get his Ph.D. in theology.
The one thing I dreamt most about was being a mom. In 1980, Mel joined Elmbrook Church's staff. We were thrilled. I was honored to have worked so Mel could receive such a good education that was formative in his life work and his calling.
Yet, no children. I cried and prayed and felt as though God had rejected me for the job of motherhood. Drug treatment and minor surgeries were tried. More than 12 years of marriage, but no babies. We were to learn it was because I had endometriosis. Feeling lost, I decided I might just as well move on, so I went on to get a Master's Degree in social work. I worked in the field for 20-plus years, and also found ministry work I could do at church.
In 1985 my dear friend and Doctor Gloria Halverson performed delicate, intense, lengthy laser surgery, carefully cleaning my fallopian tubes from the twisting, kinking, crushing globs of matter caused by endometriosis.
In December of 1986 I walked the aisle at graduation for my MSW degree, nine-months pregnant with our first child, Eva.
My heart, spirit, and mind were full of love, joy and thankfulness. Two years later Christopher was born. And then, that was it. I was unable to have any more children.
As soon as our kids could crawl, bottle in tow, they joined me in bed for our slow snuggling waking up. Oh, and the cat came too.
Chris, age 2, to his great joy one morning, started jumping around and landed forehead down, squarely on the bridge of my nose. The ER doc concluded I had a broken nose. I always thought bed was the safest place to be. After that, no vertical bodies in bed.
Nighttime was Mel's turn. With one child on either side, Mel spun stories as they lay so still, transformed into scenes of new worlds, battles, rescues, traveling to the stars, and wild horses, little mice, and kittens.
I have one major bit of parenting advice, Love your children and tell them so every day. Say: "I love you. I will always love you, and there is nothing you could ever do that would make me stop loving you." As adults, our kids have told us how much they have appreciated being loved for who they were, not by their accomplishments or being forced to try and be the image we wanted them to be. We wanted our children to always know they were loved and safe. Open discussions were always important. Discussions about daily life, difficult questions, hurting people and problems their friends had. We were delighted whenever we saw empathy and kindness grow in them. This meant more than any school or sport awards.
We were a bit of a loud family, with four people having their own opinions. On cross-country camping trips, I feared that our excitement and laughter were sometimes a little too exuberant in volume for other campers. Like the one night raccoons got into the car. They opened every food container and ate away, even unwrapping hard candy with their little paws. The following morning came and the car looked sort of funny. We were shocked, dumbfounded, and then broke into hilarious laughter. Mel had left the car window open at night and raccoons had an all-night party in the car, tearing open every food container. Mel had just told the kids about locking everything up so nighttime critters could not get at anything. Our laughter was mostly at Dad.
Open freedom to think for themselves grew into faith. Prayers at meals, prayers at bedtime, prayers for the burial of a dead baby bird. We all took turns. Prayers for someone hurting, prayers for their needs. Prayers are like breathing. No need to be a show off. Sometimes praying was difficult. It was hard to just be patient. Our kids were not perfect. Sometimes they were sassy, ill-behaved, and selfish.
When Chris was a preschooler I remember putting him on the steps for a time out. He was not too happy with that. A tree-like house plant was near the stairs. He slowly started pulling on the leaves until the plant finally dropped to the floor. When Eva was in 2nd grade, she became really mad at me for something. So she sneaked in my closet and took a pretty dress and hid it in her closet.
I wrote one tiny book in my life called The Day Momma Played. It was about joy, laughter, and lessons learned. I've kept my child heart, a kid inside looking for fun. That is what makes playing so easy. Children gave me an excuse to have all manner of pets: hamsters, birds, dogs, cats, and a dog. We also had at various times a rabbit, fish, turtles, and chickens.
The chickens were kept in our tiny back yard. Mel built a child's play house for their coop.We incubated the chicks from eggs. They were very tame and we could communicate--in "chicken language." They are very intelligent creatures. They gave us the best eggs ever. Somehow, animals led to many discussions about life and death, and about the hard issues of life.
The kids learned so much about pets and animals. We knew they were following their gender instincts when baby bunnies were found in a nest in the backyard. The kids were preschoolers. Eva announced "I will feed them!" and Chris announced, "I will protect them!"
Mel felt a calling to travel to third-world countries, particularly to teach pastors and leaders how to understand the Bible and preach. Once in a while, he would take one of the kids along with him. It taught them a world of information without letting them know they were being taught. Chris, who is a bit of a germaphobe, walked the paths of the largest slum in Africa, streams of sewage running through their paths, reaching out his hand to children and the sick.
Hide and seek was a favorite game at home. Lights out in a dark house. The kids got flashlights. Mel would hide with a squirt gun. When they got close, he would spray them with a sprinkle of water. They would scream and laugh, not knowing Mel was hiding behind a shower curtain or behind a door. When they finally found him, they were two little moneys hanging onto him.
I was the outdoor adventurous one. The kids and I frequently went to Sister Bay, Wisconsin. Both Grandmas lived there. Mel would join us on vacation days. We built forts in the woods. I took them to the secret town beaches and skipped stones. On hikes in the forests, I taught them all the birds and wild flowers. They learned not to be afraid of bugs or worms. If they wanted to fish, they had to put the worm on their hooks.
Ten years ago, when Chris was 18 and one week from graduating from high school, he went out with buddies for lunch. He was a passenger in the back seat of the car. An 18-wheeler carrying bulldozers with a novice driver was speeding and crashed into the car Chris was riding in. Chris was thrown from the car and bounced along the pavement. We got the call that he was being flown by the Flight for Life helicopter to the trauma center. Chris came out of it with a traumatic brain injury and a lesion in his spinal cord.
He has had to deal with terrible pain, some of which he'll probably have the rest of his life. Recovery has been slow and steady. Miraculously, by the grace of God, he did finish Carroll University after 6 years. He knows how to persevere.
Eleven months ago, on June 2, 2017, Eva died in my arms after five years of suffering with an autoimmune disease and being homebound. We never anticipated she would die from this disorder. We took her to every kind of doctor recommended. No treatment, no cure. This has been a true test of our faith. Mel has not wavered in his belief. God does give strength and faith when you need it in the darkest despair. When Mel preaches and teaches it is from tested life, trials, and joys. He writes honestly about what this painful year has been like, hoping to help others. My heart aches for him.
When I think of Eva, I feel this huge hole in my gut and in my heart. It's a hole I can never fill this side of heaven. I cannot talk about Eva without Mel welling up with tears. Our dear, sweet Eva. We never thought she would die so young. Just 30. It is so traumatic. It has been a true test of our faith. Heaven seems closer for us.
Love your kids, no matter how difficult, no matter how out of control at times, even when they sin or need tough love. Do not miss an opportunity to tell them you love them, no matter how hard they test you, no matter how inconvenient. Hug them, kiss them, pray for them. You never know how long you will have them or how far away they may live someday.