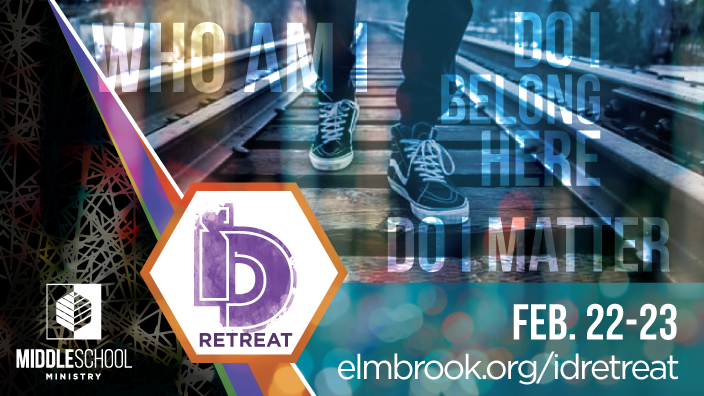 Friday, February 22, 2019, 7:00 PM - Saturday, February 23, 2019, 11:30 AM
Cost $39
Check in begins at 7pm on Friday, Feb 22. (Students MUST be checked in by 8PM, arrivals later than that are not permitted)
Pick up time is at 11:30am on Saturday, Feb 23.
*Student Ministries values retreats, camps and events as a great place for students to form community and find a sense of belonging. As a staff, we plan events with this in mind. Every element of the retreat from beginning to end is important to reach that end goal. While we cannot restrict a child from arriving late or leaving early, we ask that you make every effort for your student to student attend the retreat as a whole.
---
Students: Don't forget to wear black light reflective clothing for dodgeball on Friday night. White T-shirts totally POP!
WHO am I? DO I belong HERE? DO I MATTER?
Welcome to the mind of EVERY middle school student! At the ID Retreat, students will encounter full-scale blacklight dodgeball and a professionally DJed dance party. More importantly, they'll experience incredible grade-specific sessions geared towards helping them discover who they are in Jesus (6th grade), what it means to be a godly man or woman (7th grade), and how God's Word can influence their relationships and concepts of purity (8th grade).
Registration is now closed. No walk-ins.
---
Note to parents
As your tweens go through the middle school years, we are here to partner with you. The ID Retreat was created to open up conversations with your students about critical issues surrounding identity, what it means to be a godly man or woman, and how God's Word can influence their relationships and concepts of purity. We would LOVE every student in sixth, seventh and eighth grade to experience it!
Parents' role in continuing this important conversation is vital. We ask you to please plan to attend the parent session on Friday night, Feb 22, from 7:30-8:15pm after you drop off your student.
During this session, we will provide outlines for each of the talks the students will experience on Saturday morning, along with helpful questions for you to continue the conversation in your home after the retreat.
We want everyone to be aware of the content being taught, so here is a brief overview of each of the three grade-specific ID sessions:
Sixth Grade
Boys and girls will all be in the same session. We plan to answer three major identity-based questions:
Who am I?
Where do I fit?
What difference do I make?
As we dig into each of these questions, we are going to address these truths:
Students are intentionally created by God.
Each of us has a unique role in the body of Christ.
We are all on a mission for Jesus.
We will use texts such as Genesis 1:27, 1 Corinthians 12:27 and Ephesians 2:10 to drive these points home.
Seventh Grade
We will split 7th-grade students into gender-specific sessions.

The girls will be talking about what it means to be a godly woman. We plan to emphasize God's intentionality in creating them, that they are wired for relationships with others (this does not focus on dating relationships), that they have a purpose and that they are beautiful. We will hone in on what true beauty means and how it differs from the way society tells us we need to look.

The boys will cover being purposely created in the image of God, that they are engaged in the greatest battle the world has ever known, and that living out their faith will be one of the greatest adventures they ever live.
Eighth Grade
Boys and girls will all be in the same session. Here we will tackle big issues such as:
Relationships — in particular, DATING relationships. How do we prepare ourselves for a godly relationship?
How do we know we're ready to date? (Don't worry... students will know that YOU, their parents, get the final say on all things dating related.)
How can we remain pure while in a relationship? What do healthy boundaries look like with people? What about technology and social media?

How can I

be

forgiven if I've messed up sexually?
Sign up your middle school student for an epic overnight and mark your calendar to spend a little time with us once you drop them off.
Want to help?
We need parent volunteers for a few key parts of the weekend – Pizza Friday night and Breakfast Saturday morning.
Pizza Friday night 8:30-10pm: Help set-up tables, clear empty boxes, rotate warm pizzas, make lemonade, clean up
Breakfast Saturday morning 6:30am-9:00am: Help us prep breakfast food – flip pancakes, cook breakfast sausages, pour oj, stock toppings, get these kids fueled up for the day.
Contact Linda to sign-up at
---
Please contact Ben Kelm with any questions at .